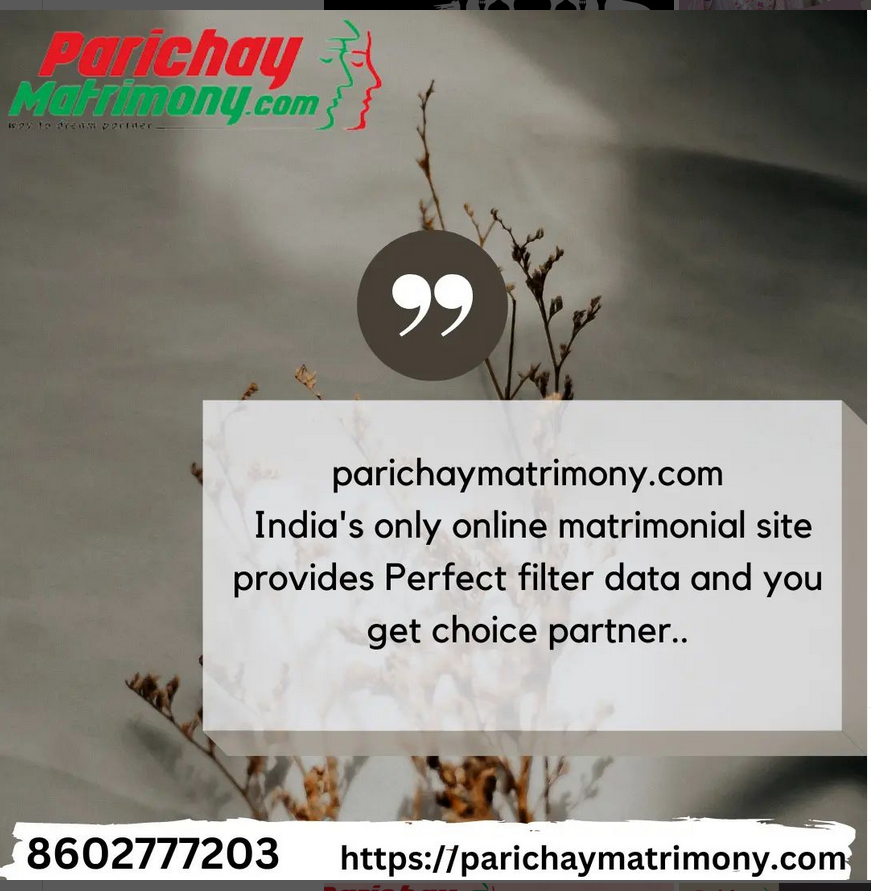 15, Oct 2023
What are the benefits of marriage bureau?
Introduction
Marriage is a lovely adventure that two people take together that paves the road for enduring love and togetherness. Finding a compatible life mate, though, can occasionally be a difficult endeavor. The idea of a marriage bureau is useful in this situation. By introducing people to potential matches based on their tastes, values, and compatibility, a marriage bureau serves as a facilitator. We shall enlarge on marriage bureaus in this piece and examine the many advantages they provide. Matrimony, also known as marriage, is a sacred union between two individuals who vow to support and cherish each other for a lifetime. This institution has been deeply rooted in our society for centuries, reflecting the cultural and religious values of different communities around the world. In this article, we will delve into the various aspects of matrimony, exploring its significance, rituals, and the lifelong commitment it symbolizes.
Understanding the Role of a Marriage Bureau
A marriage bureau acts as a link between those looking for a life partner and those who would make good matches. Before suggesting suitable matches to their clients, the matchmakers employed by these agencies carefully consider the traits, preferences, and likes of each individual. A large database of qualified prospects is used in the process, enabling the matchmakers to provide their clients with a variety of possibilities.
Benefits of Choosing a Marriage Bureau
Personalized Attention: One of the key advantages of opting for a marriage bureau is the personalized attention clients receive. Matchmakers take the time to understand an individual's preferences, aspirations, and lifestyle choices, helping them find a partner who complements their personality.

Extensive Database: Marriage bureaus have access to a vast database of prospective matches, increasing the likelihood of finding someone truly compatible. This extensive network allows them to cater to various preferences, be it religion, caste, profession, or hobbies.

Privacy and Confidentiality: Maintaining privacy and confidentiality is a crucial aspect of working with a marriage bureau. These bureaus ensure that personal information remains secure and is only shared with consent, providing a sense of comfort and trust to their clients.

Time and Effort Savings: Searching for a life partner can be a time-consuming process. With a marriage bureau, clients can save valuable time and effort by relying on the expertise of professional matchmakers. The bureau takes over the task of searching and shortlisting potential matches, streamlining the entire process.
The Process of Finding a Life Partner through a Marriage Bureau
Marriage bureaus follow a systematic approach to ensure a successful match. Whether individuals choose to register online or visit the bureau in person, the process usually involves the following steps:
1. Registration and Profile Creation
The marriage bureau requires prospective clients to register, supplying necessary personal information such age, education, occupation, and preferences.

A thorough profile is made, emphasizing the most important facets of a person's personality, values, and expectations..
2. Preferences and Matching
The ability to define preferences for age, religion, caste, education, and other factors is available to clients.

To narrow down prospective matches that fit the client's tastes and criteria, professional matchmakers consult their enormous database.

During the matching process, compatibility, shared values, and common interests are all carefully taken into account.
3. Communication and Introduction
Once potential matches are identified, the matchmaker initiates the introduction by sharing relevant profiles with the clients.

Clients can communicate with the potential matches through various mediums like emails, phone calls, or arranged meetings (if desired).

This stage allows individuals to build a connection, assess compatibility, and gauge mutual interests.
4. Assistance and Support
The entire process is continuously assisted and supported by marriage bureaus..

Matchmakers offer advice, address issues, and respond to any questions that clients may have.

They assist people in navigating the process of finding a life partner by acting as a facilitator..
Conclusion
Marriage bureaus are crucial in streamlining the process because finding an appropriate life mate can be difficult in today's time-constrained society. They enable people to make informed decisions with their individualized attention, vast databases, and professional attitude. Working with a marriage bureau boosts your chances of finding a lasting partner who has similar beliefs and interests while also saving time and effort. So, if you're looking for love, think about contacting a marriage bureau; it might just be the key to opening up a lovely path to a happy and rewarding marriage. Marriage is a wonderful institution that unites people of different cultures and traditions. It encompasses the great value of affection, fidelity, and friendship. Couples openly profess their love for one another through cultural and religious ceremonies while receiving the love and blessings of their loved ones. Effective communication, respect for one another, and a desire to develop as a couple are necessary for maintaining a lasting relationship. Marriage is more than just a formal legal agreement; it is also a wonderful adventure that two people choose to take together, embracing the challenges and rewards that lie ahead.
Admin
Author